ELIMINATOR® bridge deck waterproofing membrane
Extending the life of road and railway bridges
Superior protection for bridge decks
Steel and concrete bridges are vulnerable to attack by water, chloride and frost, leading to deterioration and even structural failures. Installing a high-performance waterproofing membrane is therefore an essential part of any bridge construction or refurbishment program. The ELIMINATOR® bridge deck waterproofing membrane is a cold, spray-applied solution that can outlast the life of the structure — reducing maintenance costs and traffic disruptions.
Documents
ELIMINATOR® Product Documents
Products & Accessories
Products
Product Name
Description
Key Benefits
Applications Type
ELIMINATOR® bridge deck waterproofing membrane
Description
The ELIMINATOR® waterproofing membrane for the protection of concrete and steel bridge decks, developed by Stirling Lloyd (now GCP) and backed by a 40-year history in specialty waterproofing
Key Benefits
Supports a 120-year design life of the bridge Accelerates project completion
Reduces maintenance issues
Withstands harsh weather conditions
Includes end-to-end design and technical expertise
Application Type
Concrete bridge decks
Steel bridge decks
Bridge piers
Bridge service ducts
Culverts
Overview
Achieve long-term performance 
The ELIMINATOR® bridge deck waterproofing membrane has an unparalleled track record protecting thousands of concrete and steel bridges throughout the world. Based on unique ESSELAC® advanced resin technology, the system creates composite action between the deck, waterproof membrane, substrate and asphalt, ensuring that the membrane is fully bonded both downwards to the deck and upwards to the surfacing. The extremely high bond enables the membrane to stand up to punishing climate conditions and heavy traffic loads. 
Accelerating waterproofing application
The ELIMINATOR® bridge waterproof membrane offers fast, simple and effective application. Unlike alternative solutions that are sensitive to moisture, the ELIMINATOR® membrane can be applied virtually year round, in any climate, preventing costly weather delays. It cures in just an hour, even in high humidity or low temperatures. In addition, the system features on-the-spot QA capabilities, such as the two-colour application system, that make it easy to quickly verify that the membrane is applied properly.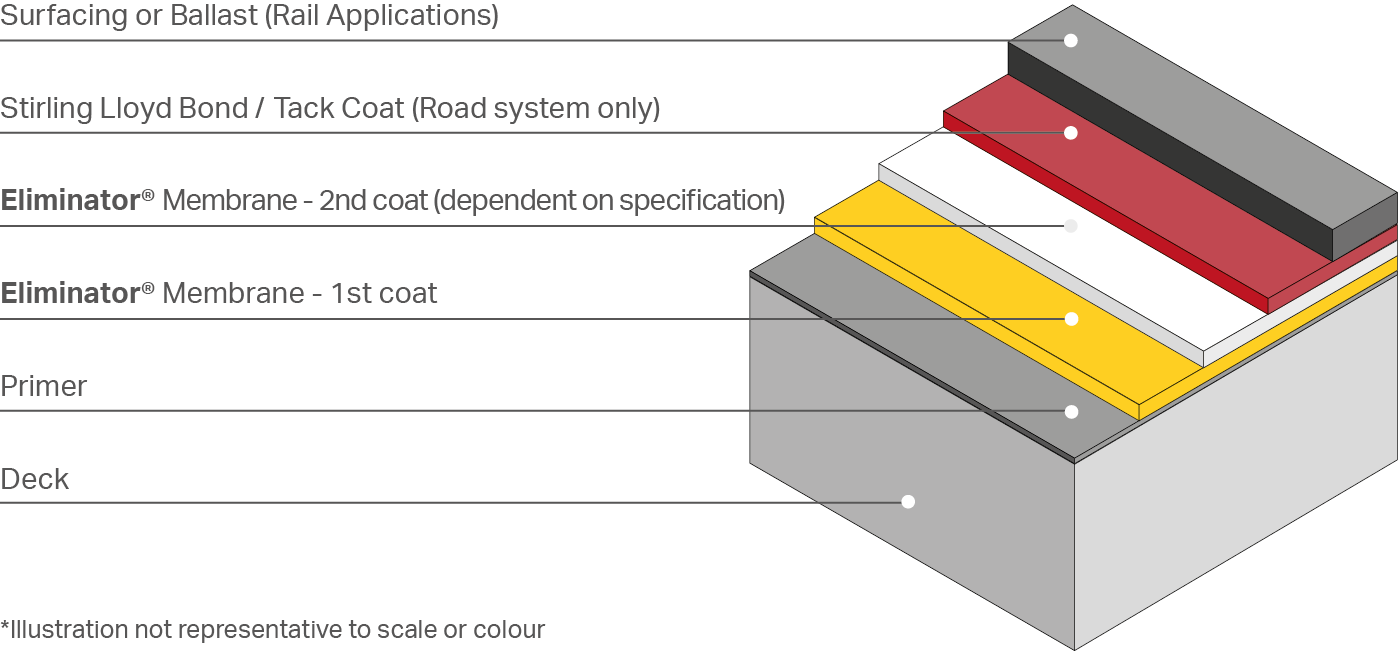 Product Advantages
Long lasting, highly durable membrane drives down future maintenance costs
Fast application (in excess of 2,000m2 per day) with industry-standard equipment
No need for hot trades
Approved Contractor Program and onsite quality control measures ensure the integrity of the membrane prior to surfacing
Elimination of critical overcoating time allows phasing of work for greater scheduling flexibility
Unaffected by application of surfacing up to 250°C