SENTINEL® expansion joints
A comprehensive solution for waterproofing and movement joint schemes
Innovative and cost-effective solution for expansion joints.
Used in conjunction with our innovative waterproof membranes, the SENTINEL® range provides a comprehensive, cost-effective solution for combined waterproofing and movement joint schemes. All Sentinel systems provide a long life expansion joint solution, and utilise innovative fast curing materials to minimise bridge closure time.
Overview
Products
SENTINEL® B: Buried joint for use under continuous asphalt surfacing, incorporating a proprietary PVC flashing strip designed for horizontal movements in the range of 0 – 20mm.SENTINEL® B is bonded across the expansion gap and is compatible with the ELIMINATOR® waterproofing system to form a continuous waterproofing detail below the asphalt surfacing. Sentinel B joints are SA1 registered in the UK as a BD33/94 Type 1 bridge expansion joint.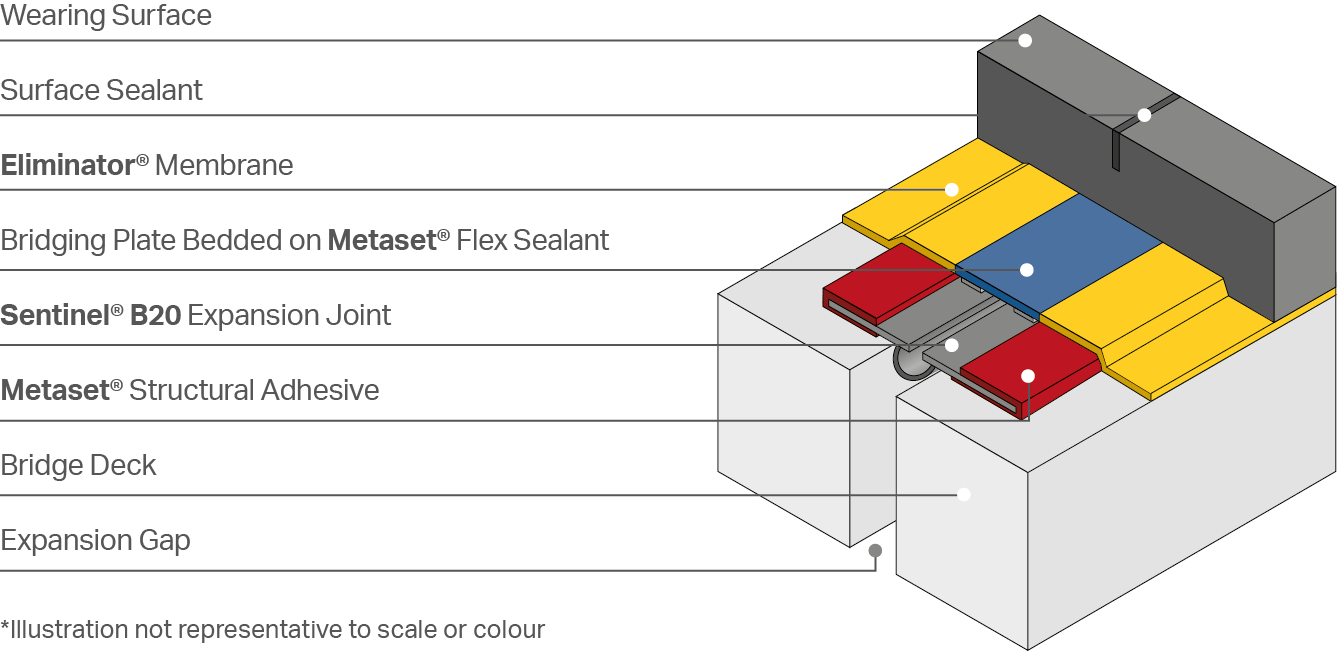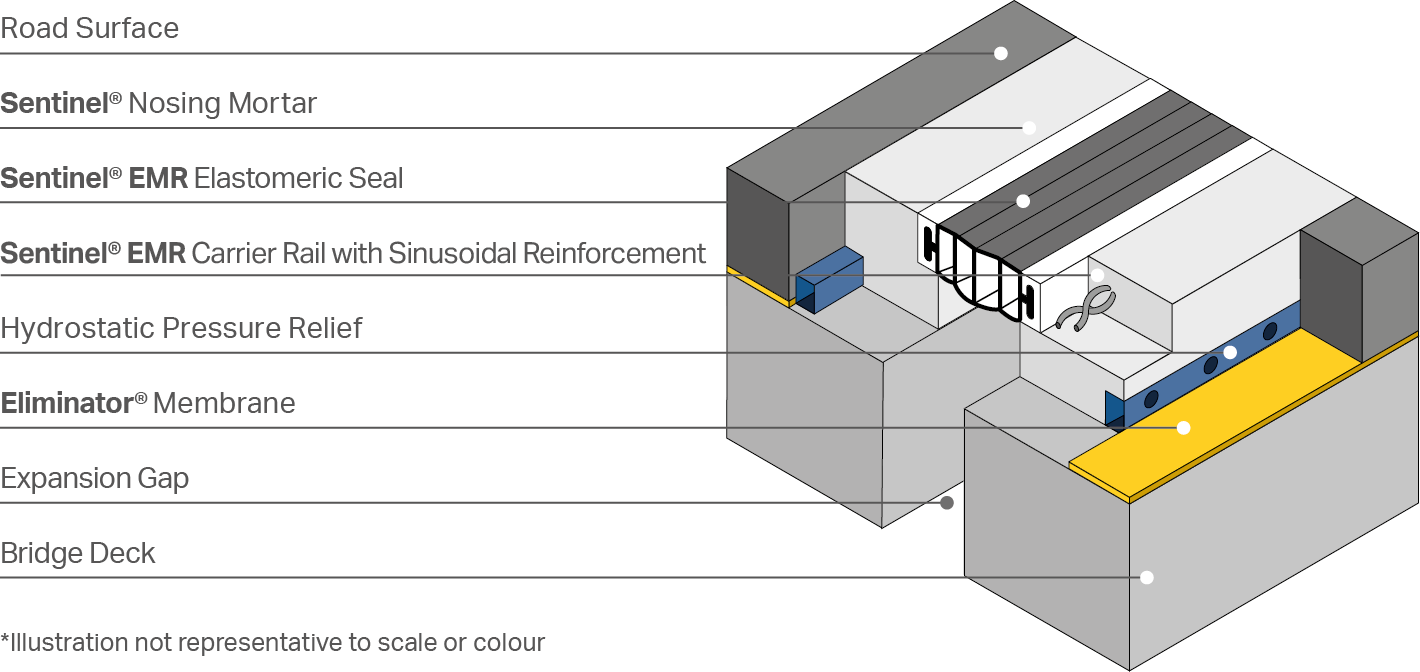 SENTINEL® EMR: An Elastomeric seal in metal rails type joint, SENTINEL® EMR is a surface mounted mechanical bridge expansion joint. Designed for high wear situations on new and refurbishment projects. It is available with a range of load bearing seals to accommodate varied movement and gap widths, up to 150mm of horizontal movement. Sentinel EMR joints are SA1 registered in the UK as a BD33/94 Type 6 bridge expansion joint.
SENTINEL® NJ: A Nosing Joint designed for small movements in high load and high wear situations such as highway bridges, footbridges, car parks and building applications. SENTINEL® NJ is surface mounted, comprising a central preformed load bearing compression seal, bonded between high strength elastomeric nosings. Sentinel NJ joints are SA1 registered in the UK as a BD33/94 Type 4 bridge expansion joint.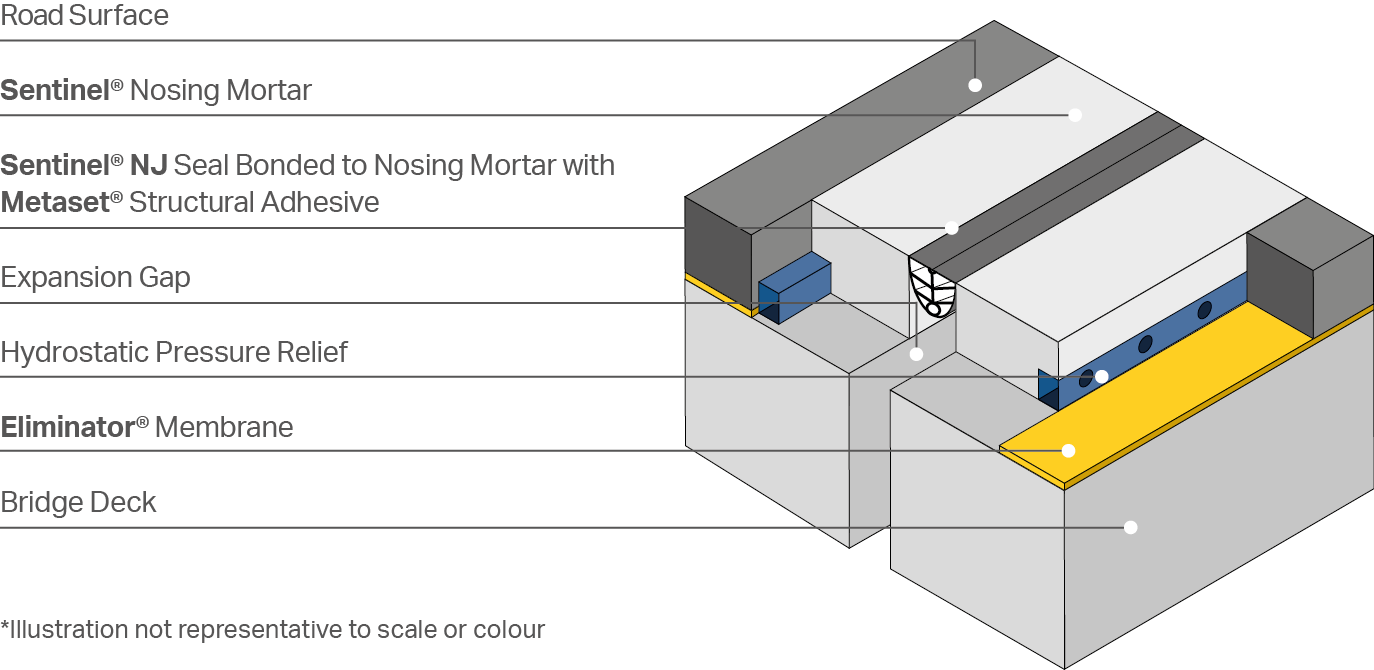 Reinforced Elastomeric bridge expansion joint system for horizontal movements of up to 350mm with SA1 registration in the UK as a BD33/94 Type 5 bridge expansion joint and highly resilient expansion joints that can accommodate a wide range of movements (up to 350mm) including complex movements where there are components of horizontal, vertical and lateral movement are available upon request.
Product advantages
Highways England Registered
Provides a complete waterproofing solution compatible with the ELIMINATOR®, INTEGRITANK®, DECSEAL® AND SAFETRACK® system for areas where expansion joints are required
A full range of horizontal and vertical joints available
Resistant to a wide range of chemicals and oils
A range of buried and surface-mounted joints to meet the requirements of the project