Protection 03
Robust preformed asphaltic protective board specially engineered for the protection of GCP self adhesive membranes
Product Description
The boards are formulated specifically for their purpose using a special blend of cellulose fibers, bitumen and hydrocarbon resins for enhanced strength, resilience and durability.
Manufactured in Europe to a unique specification by a a complex process of extrusion and compression, Protection 03 is proven in the field over many years and is recommended by GCP to provide the most suitable and practical protection to all grades of self adhesive membranes.
Advantages
Recommended for use with Bituthene® and backfilled Preprufe® membrane.
Rot resistant and durable
High heat resistance - allowing use at elevated temperature in hot climates
Provides protection to membrane against damage from backfill and site operations
Robust but lightweight
High resistance to impact and puncture at elevated temperatures
Easy to install
Cold applied
Supply
 
Protection 03
Length
2.03 m ± 6%
Width
0.90 m ± 6%
Thickness
3.0 mm ± 6%
Nominal Weight
5 kg/board (300 boards per pallet)
Ancillary Products
 
Bitustik 4000
150 mm x 12 m rolls (6 rolls per carton)
Typical Properties
 
 
 
Typical Value
Test Method
Static load, 20 Kg @ +35°C
Pass
EN 12730
Impact Resistance, 80 cm @ +35°C
Pass
EN 12691-A

Puncture Resistance, N

+23°C
+35°C
+50°C

 

300 ± 20
225 ± 10
200 ± 15

 

ASTM D 4833

Heat Resistance, +150°C
Pass
EN 1110
All declared values shown in this data sheet are based on test results determined under laboratory conditions and with the product sample taken directly from stock in its original packing without any alteration or modification of its component parts.
Limitations
Maximum UV exposure of protection boards 30 days. On vertical walls due to the temporary fixing used, backfill is recommended as soon as installation is completed. Not recommended to use with Servidek liquid membrane.
NBS Specification Clause
Refer to Clause J40/380.
Installation
Boards shall be laid flat within the pallet prior to the application.
Vertical installation on post applied self adhesive membrane
Start at bottom of wall and apply to height of first backfill layer.
Wherever possible backfill and compact in layers to minimise risk of displacement of boards.
To locate boards, prime five 150 mm x 150 mm 'patches' (one in each corner, and one in the middle) of each board with suitable GCP Primer and allow to dry. Apply Bitustik™ 4000 150 mm double sided bitumen tape to the primed strips. Alternatively a mastic or contact adhesive recommended by GCP can be used to fix the boards.
Apply boards to clean dry membrane and roll 'patches' firmly. Remove release film from 'patches' and apply boards to membrane.
Once the protection board is fixed in place, subsequent boards shall be laid continuously by butt fitting the edges. Ensure boards stay close butt joints during backfilling and compaction.
Provide temporary propping of protection boards where necessary and remove as backfill is placed.
Horizontal protection of self adhesive membrane
Repeat the installation instructions for horizontal protection of membranes.
In high wind conditions provide temporary ballast to the protection boards.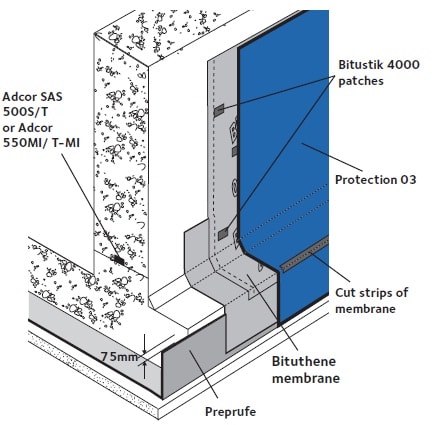 Details shown are typical illustrations only and not working drawings. For assistance with working drawings and additional technical advice please contact GCP Technical Services.
Health and Safety
There is no requirement for a Safety Data Sheet for Protection Boards or tapes. For Bituthene® Primer S2, Bituthene® Primer B1 and Preprufe® SC1 read the product label and Safety Data Sheet (SDS) before use. Users must comply with all risk and safety phrases. SDSs can be obtained from GCP Applied Technologies or gcpat.com.
gcpat.uk | United Kingdom customer service: +44 (0) 1480 478421
We hope the information here will be helpful. It is based on data and knowledge considered to be true and accurate, and is offered for consideration, investigation and verification by the user, but we do not warrant the results to be obtained. Please read all statements, recommendations, and suggestions in conjunction with our conditions of sale, which apply to all goods supplied by us. No statement, recommendation, or suggestion is intended for any use that would infringe any patent, copyright, or other third party right.
© Copyright 2016 GCP Applied Technologies Inc. All rights reserved.

GCP Applied Technologies Inc., 2325 Lakeview Parkway, Alpharetta, GA 30009, USA
GCP Applied Technologies (UK) Ltd, 487-488 Ipswich Road, Slough, SL1 4EP
This document is only current as of the last updated date stated below and is valid only for use in the United Kingdom. It is important that you always refer to the currently available information at the URL below to provide the most current product information at the time of use. Additional literature such as Contractor Manuals, Technical Bulletins, Detail Drawings and detailing recommendations and other relevant documents are also available on www.gcpat.uk. Information found on other websites must not be relied upon, as they may not be up-to-date or applicable to the conditions in your location and we do not accept any responsibility for their content. If there are any conflicts or if you need more information, please contact GCP Customer Service.
Last Updated: 2022-04-29
https://gcpat.uk/en-gb/solutions/products/protection-03