PREPRUFE® 800PA membrane
Self-adhesive PREPRUFE® membrane for basement walls in open excavations
Product Description
Preprufe® 800PA is a cold-applied, self-adhesive waterproofing membrane, composed of a reinforced cross-laminated HDPE film, and a synthetic non-bituminous adhesive. Preprufe® 800PA incorporates the Preprufe® Advanced Bond Technology™.
Principal Applications
New and remedial waterproofing for:
Basement walls of all basement grades to BS 8102: 2009
Below-ground car parks
Underground RC reservoirs and tanks
Industrial plants
Radon and methane gas protection
Protection from water, damp and gas of critical substructures
Installation
Preprufe® 800PA membrane can be applied to cementitious and metal substrates.
Available in two versions: Preprufe® 800PA membrane application temperature between +5°C and +40°C, Preprufe® 800PA LT membrane application temperature between -5°C and + 25°C. The substrate should be clean, free of grease, release agents and protrusions or voids. Irregularities greater than 3 mm should be removed or filled with GCP Betec® NSM range of products. All  surfaces should be primed with one coat of GCP's solvent based quick drying, damp and green concrete tolerant primer Preprufe® SC1. Primer colour is green to ensure proper coverage, to aid identification and to avoid substitution. See separate data sheet.
Before starting the application, cut Preprufe® 800PA membrane to length, according to the height of the application area. Peel back the first 30 cm of the release liner. Position the membrane and apply the adhesive face from top to the bottom removing completely the release liner. Preprufe® 800PA membrane should be brushed or rolled onto the primed surface to ensure good initial bond and to exclude trapped air. Adjacent rolls are aligned using printed lines overlapped 50 mm minimum at side and ends and well rolled with a firm pressure, using a lap roller to ensure complete adhesion and continuity between the layers.
On high walls it may be necessary to batten fix the membrane to prevent slippage. Remove the batten after backfilling and before the positioning of any flashing (if needed). For other substrates such as plastic or wood consult GCP Applied Technologies.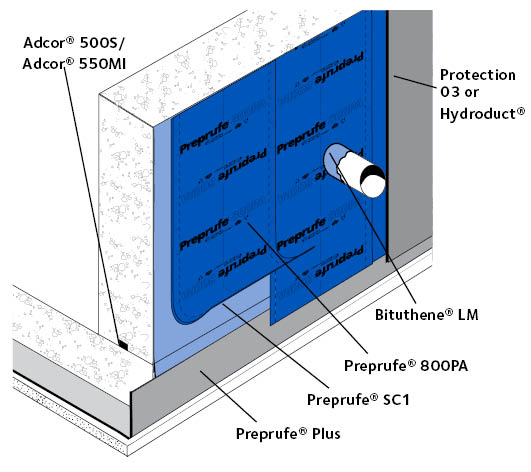 Product Advantages
Non-bituminous - synthetic self adhesive membrane based on Preprufe® technology.
Adhesion - excellent concrete adhesion at all temperatures.
Productivity - 1.2 metre wide roll for increased worker efficiency.
Fully bonded - eliminates water migration to prevent water tracking between membrane and substrate.
Elastomeric - accommodates movements and bridges concrete shrinkage cracks.
Superior performance - high strength, elongation, tear resistant properties.
Water and vapour barrier - provides protection for all basements which need to be leak free.
Gas resistant - contributes to methane, carbon dioxide and radon gas protection according to BS 8485, BRE Reports 211 (radon) and 212 (methane and carbon dioxide). Independent test results available upon request.
Details
Internal and external corners and edges must be reinforced with pre-cut strips of 300 mm wide Preprufe® 800PA membrane. To seal penetrations such as service pipes, lightning conductors, etc., use Bituthene® LM around the penetration with a fillet to provide a watertight seal with Preprufe® 800PA membrane.
Supply
 
Preprufe® 800PA
1.2 m x 35 m roll
Weight
35 kg / roll
Minimum overlap
50 mm
Storage
Store upright in dry conditions below +30°C
Preprufe® SC1
5 and 20 litre can
Coverage
10 - 12 sq m per litre depending upon
method of application, surface porosity and
ambient temperature
Ancillary Products
 
Bituthene® LM
5.7 litre packs
Protection 03 board
3 mm x 0.9 m x 2.03 m (± 6%)
Adcor® 500S
6 x 5 m rolls
Hydroduct®
See separate Drainage Sheets data sheet
Equipment by others: Lap Roller
Note: As per specification and/or local site requirements a low VOC, water-based primer Bituthene® Primer W2 can be used as an alternative to Preprufe® SC1 primer.
Physical Properties
 
 
 
Typical Value
Test Method
Peel Strength at 23°C, min
3.2 N/mm
ASTM D 903
Modified3
Storage & Transportation
The rolls of Preprufe® 800PA membrane are to be transported only in boxes packed upright on shrink-wrapped pallets and must be stored upright on site. The stacking of membrane is not allowed. Before installation, the membrane has to be protected from direct sunlight and moisture. Punctual or lineal loading and exposure to solvent vapour shall be avoided.
Specification Clause
Refer to clause J40 297.

Repairs, Protection & Drainage
Preprufe® 800PA membrane film has an internal grey/black layer. When damage occurs, the grey/black layer is exposed on the white surface. Damaged areas to be repaired with an oversize patch applied to a clean, dry surface extending 100 mm beyond damage and firmly rolled.
Protect Preprufe® 800PA membrane immediately after application to avoid damage from other trades, construction materials or backfill, using only GCP Protection 03 boards.
Preprufe® 800PA membrane must not be exposed for more than 30 days. If the area around the substructure can be drained to a low level outlet then GCP recommends the Hydroduct® range of drainage membranes.
Health and Safety
There is no legal requirement for a Safety Data Sheet for Preprufe® 800PA membrane. For health and safety questions on this product please contact GCP Applied Technologies. For Bituthene® Primer W2, Preprufe® SC1 primer and Bituthene® LM read the product label and Safety Data Sheet (SDS) before use. Users must comply with all risk and safety phrases. SDS's can be obtained from GCP Applied Technologies or from our web site at gcpat.com.
Declared values according to EN 13967
Property
Declared Value
 
Test
Method
Property
Declared Value
 
Test
Method
Preprufe®
800PA
800PA LT
Method
Preprufe®
800PA
800PA LT
 
Visible defects - MDV
None
None
EN 1850-2
Joint strength (N/50mm) - MLV
≥ 250
≥ 220
EN 12317-2
Straightness - MDV
Pass
Pass
EN 1848-2
Water vapour transmission
(μ= sD/d) - MDV
380.000 ± 30%
EN 1931
Method B
Length (m) - MDV
35.10 ± 0.25
35.10 ± 0.25
EN 1848-2
Durability of water
tightness against ageing/
degradation (at 60 kPa)
Pass
Pass
EN 1296
EN 1928
Method B
Thickness (mm) - MDV
0.8 ± 0.07
0.8 ± 0.07
EN 1849-2
Durability of water tightness against chemicals (at 60 kPa)
Pass
Pass
EN 1847
Method B
EN 1928
Method B
Width Carrier Sheet (m) - MDV
1.206 ±0.006
1.206 ±0.006
EN 1848-2
Compatibility with bitumen
Pass
Pass
EN 1548
Mass per unit area (g/m²) - MDV
735 ± 50
735 ± 50
EN 1849-2
Resistance to static loading
≥ 20 - Pass
≥ 20 - Pass
EN 12730
Water tightness to liquid water (at 60 kPa)
Pass
Pass
EN 1928
Tensile properties - unreinforced sheets (N/50mm) - MLV
Long¹ ≥ 430
Trans² ≥ 430
Long¹ ≥ 430
Trans² ≥ 430
EN 12311-2
Method A
Resistance to impact (Al-board (mm) - MLV)
≥ 150 
≥ 150 
EN 12691
Tensile properties - unreinforced sheets (Elongation %) - MLV
Long¹ ≥ 280
Trans² ≥ 280
Long¹ ≥ 180
Trans² ≥ 180
EN 12311-2
Method A
Resistance to tearing (Nail Shank)- unreinforced sheets (N) - MLV
≥ 155
≥ 155
EN 12310-1
Reaction to fire
(Class; test conditions)
E
E
EN 13501-1
Footnotes: 1. Longitudinal - related to the roll direction 2. Transversal - related to the roll direction 3. MDV: Manufacturer Declared Value 4. MLV: Manufactured Limiting
Value 5. NPD: No Performance Declared.
All declared values shown in this data sheet are based on test results determined under laboratory conditions and with the product sample taken directly from stock in its
original packing without any alteration or modification of its component parts.
gcpat.uk | United Kingdom customer service: +44 (0) 1480 478421
We hope the information here will be helpful. It is based on data and knowledge considered to be true and accurate, and is offered for consideration, investigation and verification by the user, but we do not warrant the results to be obtained. Please read all statements, recommendations, and suggestions in conjunction with our conditions of sale, which apply to all goods supplied by us. No statement, recommendation, or suggestion is intended for any use that would infringe any patent, copyright, or other third party right.
PREPRUFE, Adcor and Bituthene are a trademarks, which may be registered in the United States and/or other countries, of GCP Applied Technologies Inc. This trademark list has been compiled using available published information as of the publication date and may not accurately reflect current trademark ownership or status.
© Copyright 2018 GCP Applied Technologies Inc. All rights reserved.
GCP Applied Technologies Inc., 62 Whittemore Avenue, Cambridge, MA 02140 USA
In the UK, Ipswich Road, Slough, Berkshire, SL1 4EQ, UK
This document is only current as of the last updated date stated below and is valid only for use in the United Kingdom. It is important that you always refer to the currently available information at the URL below to provide the most current product information at the time of use. Additional literature such as Contractor Manuals, Technical Bulletins, Detail Drawings and detailing recommendations and other relevant documents are also available on www.gcpat.uk. Information found on other websites must not be relied upon, as they may not be up-to-date or applicable to the conditions in your location and we do not accept any responsibility for their content. If there are any conflicts or if you need more information, please contact GCP Customer Service.
Last Updated: 2020-01-16
https://gcpat.uk/en-gb/solutions/products/preprufe-pre-applied-waterproofing-solutions/preprufe-800pa-membrane