Colflex HN
Flexible joint system for movement joints in concrete decks.
Description
Colflex HN is an elastic sealing tape made of NBR rubber combined with Multitek epoxy adhesive as a jointing system for movement joints in concrete decks. Colflex HN has a double row of 3 mm offset anchoring perforations every 1 cm at 5 mm from the edge enhancing the adhesion to concrete and stress load on Colflex HN during joint movement. For GCP liquid waterproofing system for concrete roof decks and similar structures use Colflex HN 200 mm or Colflex HN 250 mm width.
Applications
For waterproofing movement joints in concrete decks and walls upstands. Sealing system for concrete joints subject to negative or positive water pressure for new construction or refurbishment.
System Components
Colflex HN: 200 and 250 mm wide – NBR rubber sealing tape
Multitek adhesive SDW: solvent free 2 component epoxy glue – for bonding the Colflex HN on surface
Multitek cleaner: mixture of solvents - for cleaning the Colflex HN tape before adhesive application
MS Fixer: 1 component caulk applied elastic MS polymer adhesive – for Colflex HN overlap
MEK: solvent for cleaning tools used with Multitek Adhesive SDW
Advantages
High adhesion – offset anchoring and Multitek adhesion performance.
Damp surface installation - with Multitek adhesive SDW.
Safer installation – no need of electrical equipment such as hot air gun for overlapping.
Movement accommodation even at low temperature – up to +/-20% of of unbonded Colflex HN width.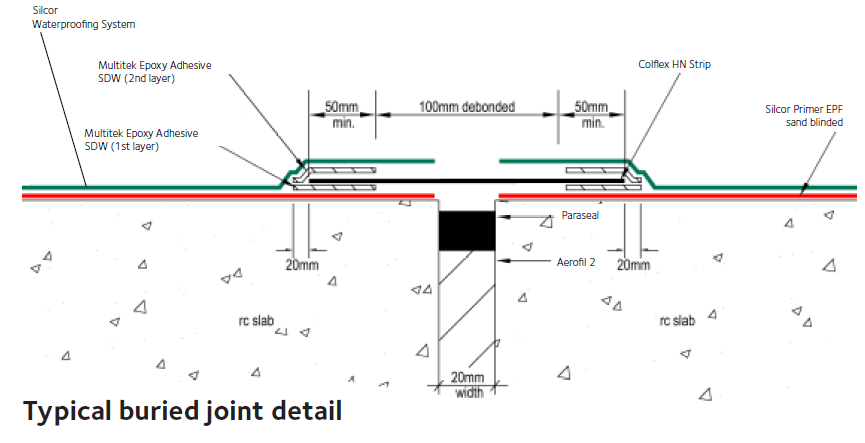 Adhesive Consumption
Colflex HN: 1 m per linear metre of treated joint Multitek Adhesive
Colflex HN 100 mm:
1.1 kg/linear m joint (2 mm bottom layer, 2 mm top layer).
Colflex HN 200 mm:
1.7 kg/linear m joint (2 mm bottom layer, 2 mm top layer).
Colflex HN 250 mm:
1.7 kg/linear m joint (2 mm bottom layer, 2 mm top layer)
Overlap 10 cm width MS Fixer
Colflex HN 100 mm: 15 g/10 cm overlap.
Colflex HN 200 mm: 30 g/10 cm overlap.
Colflex HN 250 mm: 40g/10 cm overlap
Health and Safety
Read the product label and Safety Data Sheet (SDS) before use. Users must comply with all risk and safety phrases. SDS's can be obtained from GCP Applied Technologies or from our web site at gcpat.com.
Installation
Preparation of the joint
The joint edges need to be clean and sound. This can be achieved by brush or sandblasting.
Remove dust, dirt and loose particles with compressed air or brush.
Preparation of Colflex HN
Colflex HN sheet needs to be clean and free of grease or dust before application.
In case cleaning of the Colflex HN sheet is needed, this can be done using Multitek Cleaner and a clean lint free cloth.
Apply a strip of masking tape to the centre of the Colflex HN sheet.
Preparation of Adhesive
Multitek Adhesive SDW is supplied as pre weighted kits.
Empty B-component completely into A-component (large pail).
Mix thoroughly until a uniform colour is achieved. Mix with an electric or pneumatic mixer at low speed (approx. 500 rpm).
Application of Adhesive
Apply a strip of masking tape to the edges of the joint to be treated. The tape should be applied 2 cm beside the edges of the Colflex HN sheet.
Apply Multitek Adhesive SDW to the edges of the joint.
Thickness of the layer should be 1 to 2 mm depending on the surface texture.
Application of Tape
Apply Colflex HN within 30 min onto the layer of glue. Press the tape down firmly until glue comes through the anchoring perforations.
Apply a second layer of glue 2 mm thick on top with an overlap of at least 2 cm over both edges.
Finishing the joint
There should be a debonding tape on top of the Colflex and then the detail should be completely covered by Silcor.
Connection between 2 ends of Colflex HN
Colflex HN can not be welded with a hot air blower or chemical welding.
Colflex HN roll ends are jointed using MS Fixer.
An overlap of at least 10 cm needs to be provided. Make sure to align the anchoring perforations in the tape.
Colflex HN roll ends need to be jointed before application of the joint into the Multitek Adhesive epoxy.
Remove the masking tape from the overlap and thoroughly clean and degrease the overlap sides with Multitek Cleaner.
Apply a layer of 1 mm thick MS Fixer over the entire overlap surface of the bottom Colflex HN tape.
Apply the second roll end into the fresh applied MS Fixer and press down with a non-adhering roller removing all entrapped air from underneath the top roll end.
Reapply the masking tape in the middle of the joint and in the middle of the second roll length.
Apply the jointed Colflex HN with Multitek Adhesive SDW according to the procedure above.
When the application of the complete system is done, after removal of the masking tape strip, apply a thin layer of MS Fixer to all visible roll end joints and smoothen.
When Multitek adhesive SDW is cured (seven days), Silcor® membrane or Servidek/Servipak will be applied directly on top of the Multitek adhesive SDW substrate. The liquid membrane should not be applied in the middle of Colflex HN, above the joint width (see drawing on front page). A masking tape can be installed before liquid membrane application. The masking tape will be removed before the liquid membrane set.
Cleaning: Clean all tools immediately with MEK cleaner
gcpat.uk | United Kingdom customer service: +44 (0) 1480 478421
We hope the information here will be helpful. It is based on data and knowledge considered to be true and accurate, and is offered for consideration, investigation and verification by the user, but we do not warrant the results to be obtained. Please read all statements, recommendations, and suggestions in conjunction with our conditions of sale, which apply to all goods supplied by us. No statement, recommendation, or suggestion is intended for any use that would infringe any patent, copyright, or other third party right.
Aerofil®, Silcor® and Vertiseal® are trademarks, which may be registered in the United States and/or other countries,
of GCP Applied Technologies Inc.
This trademark list has been compiled using available published information as of the publication date and may not accurately reflect current trademark ownership or status.
© Copyright 2016 GCP Applied Technologies Inc. All rights reserved.

GCP Applied Technologies Inc., 2325 Lakeview Parkway, Alpharetta, GA 30009, USA
GCP Applied Technologies (UK) Ltd, 487-488 Ipswich Road, Slough, SL1 4EP
This document is only current as of the last updated date stated below and is valid only for use in the United Kingdom. It is important that you always refer to the currently available information at the URL below to provide the most current product information at the time of use. Additional literature such as Contractor Manuals, Technical Bulletins, Detail Drawings and detailing recommendations and other relevant documents are also available on www.gcpat.uk. Information found on other websites must not be relied upon, as they may not be up-to-date or applicable to the conditions in your location and we do not accept any responsibility for their content. If there are any conflicts or if you need more information, please contact GCP Customer Service.
Last Updated: 2022-04-29
https://gcpat.uk/en-gb/solutions/products/colflex-hn