Product Description
BETEC® Lining Grout is a custom engineered cement based injection grout with ultra-high flowability and long open time for sealing and grouting annular joints over long distance (>50m) in tunneling and sewer rehabilitation.
Advantages
High performance grout with ultra-high flowability and extended open times.
Pumpable and flowing over long-distances.
Chloride-free.
Very high initial and final strength development to strength class C55/67.
Self-compacting and volume stable for a complete and durable filling of cavities.
Field of Application
BETEC® Lining Grout is specifically engineered for:
Sealing and filling of annular joints over long distances in tunneling and sewer rehabilitation.
Filling of liners.
Product Properties
Technical Data/Properties(*)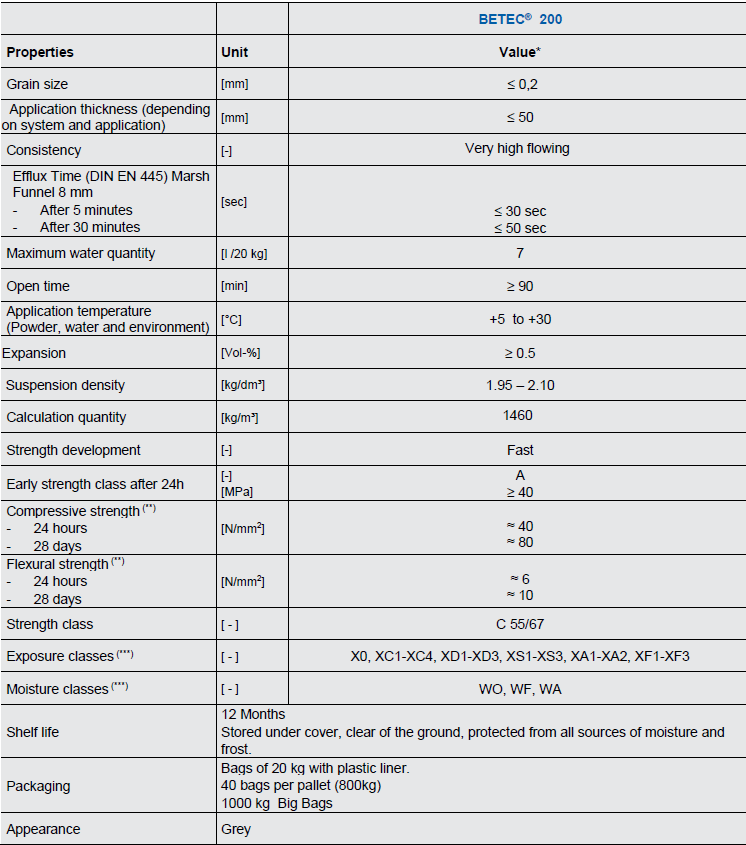 (*)Typical values in production control. All tests were executed under a conditioned temperature of 21°C and 65% RH.
(**) Compressive strengths measurements based on prisms of 4x4x16cm.
(***) According to EN 206-1:2001 in combination with DIN 1045-2.
Application
1. Preparation of Substrate
Substrate preparation has to be according EN 1504-10 part 7.
The substrate has to be free from dirt, grease, laitance, loose concrete, loose particles or layers which could adversely affect adhesion.
Remove all damaged concrete and prepare substrate by sand or grid blasting, high pressure water jetting, or other methods until base concrete is exposed, offering sufficient roughness (bond) and open pores.
The substrate must be pre-wetted with clean water until saturated. The substrate should be damp, but without free standing water.
The substrate must be frost-free.
2. Mixing
The product has to be mixed using a suitable forced action mixer (400-600rpm). The mixing head must be completely immersed in the powder. Specially designed mixing units for lining grouts can also be used.
Add the required quantity of water into the mixer and mix until a lump-free, homogeneous mixture is obtained. Never use more than the maximum water quantity.
The mixing time depends on the type of mixer.
Once the grout is ready mixed, apply immediately. Do not prepare more material than can be used within the open time of the material.
Keep the material in motion during application with a low speed mixer to prevent segregation and maintain open time.
3. Application
The grout is injected in one continuous application using a pump or injection equipment suitable for lining grouts.
If necessary, a dense and non-absorbent formwork is to be used.
Do not vibrate.
Health & Safety
BETEC® Lining Grout is a product based on cement and can therefore cause burns to skin and eyes, which should be protected during use. Wear gloves and protective eye shields. Wearing a dust mask is advised. Treat splashes to eyes and skin immediately with clean water. Consult a doctor when irritation continues. If accidentally ingested, drink water and consult a doctor. Users must comply with all risk and safety phrases. MSDS's can be obtained from GCP Applied Technologies or from our website. GISCODE ZP1.
gcpat.uk | United Kingdom customer service: +44 (0) 1480 478421
We hope the information here will be helpful. It is based on data and knowledge considered to be true and accurate, and is offered for consideration, investigation and verification by the user, but we do not warrant the results to be obtained. Please read all statements, recommendations, and suggestions in conjunction with our conditions of sale, which apply to all goods supplied by us. No statement, recommendation, or suggestion is intended for any use that would infringe any patent, copyright, or other third party right.
BETEC is a trademark, which may be registered in the United States and/or other countries, of GCP Applied Technologies Inc. This trademark list has been compiled using available published information as of the publication date and may not accurately reflect current trademark ownership or status.
© Copyright 2018 GCP Applied Technologies Inc. All rights reserved.
GCP Applied Technologies Inc., 62 Whittemore Avenue, Cambridge, MA 02140 USA.
In UK, GCP Applied Technologies, 580-581, Ipswich Road, Slough, Berkshire, SL 1 4EQ. EQ.
This document is only current as of the last updated date stated below and is valid only for use in the United Kingdom. It is important that you always refer to the currently available information at the URL below to provide the most current product information at the time of use. Additional literature such as Contractor Manuals, Technical Bulletins, Detail Drawings and detailing recommendations and other relevant documents are also available on www.gcpat.uk. Information found on other websites must not be relied upon, as they may not be up-to-date or applicable to the conditions in your location and we do not accept any responsibility for their content. If there are any conflicts or if you need more information, please contact GCP Customer Service.
Last Updated: 2018-11-30
https://gcpat.uk/en-gb/solutions/products/betec-grouts-and-cementitious-mortars/betec-lining-grout