ADCOR® Hydrophilic Waterstop 550 T-MI
Double protection system for construction joints using 2-in-1 pre-applied, post injectable hydrophilic waterstop for saline and brackish water ground condition
Product Description
ADCOR® 550 T-MI is a combined active and passive waterstop system with built in redundancy for the secure sealing of concrete construction joints subject to hydrostatic pressure. It comprises an outer hydrophilic sleeve activated in contact with water (active) for sealing the joint, and a reinforced injection tube for remedial treatment by resin injection (passive).
With the speed and simplicity of a single installation ADCOR® 550 T-MI provides the advantages of both a pre-applied barrier and a post injected waterstop system:
The outer hydrophilic sleeve gives the first protection level, it has been designed to swell with saline and brackish water ground condition,
The reinforced injection tube for remedial treatment by fast one component resin injection gives the reassurance of a second protection level.
Unlike standard injection systems that require resin injection in every case to be effective, ADCOR® 550 T-MI has built in waterstop protection from the special hydrophilic element, and only needs injection in extreme cases of leakage.
ADCOR® 550 T-MI hydrophilic injection hose has advantages over other waterstop systems with:
A hydrophilic outer sleeve which expands on contact with water and seals small cracks and voids in the construction joints
A filtration membrane outside the reinforced inner tube which prevents siltation of the injection hose and swelling of the external membrane.
A steel wire reinforced inner tube which maintains its shape and does not collapse even under the extremes of external pressure.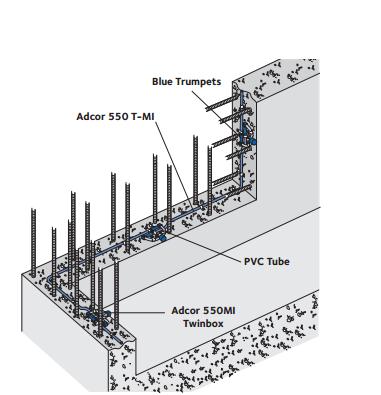 Advantages
Hydrophilic waterstop
Volumetric expansion over 140% in 8% saline water
Easy installation
Non-polluting to ground water
Retains cohesive strength at both original and expanded volume
No need for protective steel mesh
Conformable – can be installed onto a variety of irregular substrates
Reinforced inner tube prevents damage to resin path
Resists at least 5 bar (50 m) hydrostatic pressure.
Injection System
Complete contact of the outer sleeve with the concrete
Simple overlap jointing on site. Can be easily jointed to PVC Waterstops at movement joints
Low pressure injection system therefore no need for electrical injection equipment
Injection socket inlets can be installed and easily accessed
Mechanical hand pump available for injection
Minimal interruption to occupancy should the need for injection arise.
Applications
Construction joints for in-situ concrete structures
Casting new concrete against existing concrete
Floor slabs cast against diaphragm retaining walls, steel sheet piles and secant piled walls
Joints between floor slabs and pile caps
Remedial 'breaking out' of concrete.
| SUPPLY |   |
| --- | --- |
| ADCOR® 550 T-MI KIT | Weight 14.4 kg |
| Each Box Contains: |   |
| ADCOR® 550 T-MI | 8 x 5 m rolls (40 m) |
| Reinforced PVC tube* | 4 metres + 16 caps* |
| Blue Trumpets* | 16 pieces |
| ADCOR® 550MI clips* | 175 pieces |
| PVC tube clips | 16 pieces |
| Accessories |   |
| ADCOR® 550MI Twinbox | 5 units |
| ADCOR® 550MI Formholder | 50 units |
| ADCOR® Mastic | 310 ml cartridge (12 per box) |
| Injection Material** | HA Flex LV AF resin & HA Flex Cat AF catalyst |
*can also be ordered separately
**for more detail refer to separate technical datasheet
| PHYSICAL PROPERTIES |   |
| --- | --- |
| Property of the Outer Skin | Typical Results |
| Volumetric expansion in 8% saline water | >140% |
| Density | Approx. 1.46 kg/dm³ |
| Expansion pressure under complete enclosure | enclosure > 0.70 N/mm² |
| Resistance against Hydrostatic Pressure | up to 5 bar (50 m) |
| Installation temperatures | -15˚C to 60˚C |
| Minimum concrete cover | 70 mm |
| Property of the injection tube |   |
| Consumption during injection | Minimum 190 g/m to fill tube |
| Steel wire tensile strength | Approx. 1800 N/mm² |
All test results shown in this data sheet are determined under laboratory conditions and with the product sample taken directly from stock in its original packing without any alteration or modification of its component parts.
Installation
ADCOR® 550 T-MI should be installed on a smooth and dust-free surface free of loose material and laitance.
Keep ADCOR® 550 T MI dry prior to pouring concrete.
ADCOR® 550 T-MI must be in direct contact with the construction joint substrate over its full length.
The hoses are positioned between the reinforcement during second phase construction.
Note the ADCOR® 550MI Twinbox or Formholder positions and connected inlet and outlets for location and access after concreting.
Detailed installation instructions are available from the local GCP Representative.
Injection
Injection resins approved by GCP are injected through the injection ports.
Any injection required should be carried out after curing and initial shrinkage of the concrete.
The injection materials are resins with varying viscosities, which remain elastic after polymerisation, are not corrosive to reinforcement and are environmentally friendly.
A specialist applicator should be used for all system injection.
Dimensions
| | |
| --- | --- |
| Outer diameter of ADCOR® 550 T-MI: | approx. 16 mm |
| Diameter of the spiral: | approx. 8 mm |
| Thickness of hydrophilic skin: | approx. 4 mm |
Consumption
Quantities are dependent on the lengths of the construction joints and the quantity of overlaps. The consumption of injectable resin is dependent on the frequency and the size of hollow voids around the ADCOR® 550 T-MI.
Storage
ADCOR® 550 T-MI should be stored under cover, clear of the ground. Protect the materials from all sources of moisture and frost. Shelf life is unlimited if correctly stored.
Accessories
ADCOR® Mastic
Mastic for levelling the surface
Packaging: 310 ml cartridge (12 per box)
To be ordered separately.
Health and Safety
Read the product label and Safety Data Sheets before use. Users must comply with all risk and safety phrases. For health and safety questions on this product please contact GCP.
gcpat.uk | United Kingdom customer service: +44 (0) 1480 478421
This document is only current as of the last updated date stated below and is valid only for use in the United Kingdom. It is important that you always refer to the currently available information at the URL below to provide the most current product information at the time of use. Additional literature such as Contractor Manuals, Technical Bulletins, Detail Drawings and detailing recommendations and other relevant documents are also available on www.gcpat.uk. Information found on other websites must not be relied upon, as they may not be up-to-date or applicable to the conditions in your location and we do not accept any responsibility for their content. If there are any conflicts or if you need more information, please contact GCP Customer Service.
Last Updated: 2021-02-05
https://gcpat.uk/en-gb/solutions/products/adcor-hydrophilic-waterstop-550-t-mi