PREPRUFE® 160 Flex
Pre-applied flexible waterproof membrane that develops an adhesive bond to poured concrete for irregular permanent formwork
Product Description
Preprufe® 160 Flex waterproof membrane is a composite sheet comprising of a robust highly flexible backing, a pressure sensitive adhesive and a trafficable weather resistant coating.
Uniquely, the membrane develops a continuous adhesive bond to concrete poured against it. This prevents water migration between the structure and the membrane, substantially reducing the risk of leaks.
Applications
Water and vapour proofing all basement grades to BS8102: 2009
Waterproofing civil engineering substructures
Methane, carbon dioxide and radon gas protection in excess of the standard membrane requirements in BRE report 211 (Radon) and 212 (Methane and Carbon Dioxide).
System Components
Preprufe® 160 Flex – used typically in the vertical position against irregular permanent shuttering
Preprufe® 300R Plus – used typically below concrete slabs
Preprufe® Tape LT – incorporating Preprufe coating for continuous concrete adhesion at laps and detail
Bituthene® LM – high performance membrane for detailing terminations such as pipe penetrations
Adcor® SAS 500S – the ultimate self adhesive hydro expansive waterstop system for construction joints & penetrations.
Advantages
Can be used with irregular profiles such as sheet, secant and soldier piling
Adhesive seal to concrete - proven to resist water migration
Lightweight and flexible - easy to handle and install without special corner pieces
Inert - unaffected by groundwater conditions
Remains sealed to structure even if ground settles
Smooth surface – site contamination easily removed
Excellent chemical resistance.
Installation - General
Tools /materials required:
Stanley /Utility knives
Tape measure
Cotton cleaning cloths
Flat hard surface to cut on
Metal straight edge
Chalk line
Broom
2 metre long pipe or heavy broom handle
Spiral mixing paddle for mixing Bituthene LM
Round nose trowel or spatula
Required protection and/or drainage boards and other
ancillary products
It is recommended that training by GCP personnel is provided prior to installing Preprufe 160 Flex.
Preprufe 160 Flex membrane is supplied in rolls of 1.2 m wide and 35 m long. All laps, cuts and penetrations must be taped with Preprufe Tape LT. Minimum application temperature +5ºC. Preprufe Tape LT should be applied to clean dry surfaces and the release liner must be removed immediately after application.
End Laps and Cut Edges
Overlap all roll ends and cut edges by a minimum 75 mm and ensure the area is clean and free from contamination, wiping with a damp cloth if necessary. Allow to dry and apply Preprufe Tape LT.
Installation – Vertical
Apply the membrane with the thick white plastic face against the substrate. Mechanically fasten the membrane vertically using suitable watertight shot fixings. The membrane may be installed in any convenient length. Secure the top of the membrane by folding it over the top of the sheet pile if possible. Ensure there are sufficient fixings to hold the material uniformly against the substrate.
On completion of installation completely remove release liner from all sheets.
Installation - Slab to Wall
The installation of Preprufe 160R/300R Plus in the horizontal position should be carried out as outlined in separate Preprufe 160R/300R Plus data sheet, with the following exception. Bring the Preprufe in the horizontal position to the permanent formwork and cut to the profile providing a close finish to the vertical/horizontal junction. Allow the Preprufe 160 Flex in the vertical position to dress onto the already laid Preprufe 300R Plus in the horizontal by overlapping 300 mm, making cuts to fan out and fold. Use Preprufe Tape LT to make the junction between Preprufe 160 Flex and Preprufe 300R Plus in the vertical position.
Ensure all cuts and folds are dressed with Preprufe Tape LT.
Application
Material Storage
Sequence deliveries to avoid delays and minimise onsite storage. Select a safe, covered secure location for material storage. Store materials for each day's use in a location that will not require movement a second time. Do not double-stack pallets of waterproofing on the job site. Provide cover on top and all sides.
Substrate Preparation
Substrates should be uniform with no gaps or voids greater than 12 mm. Where these exist fill with a material of sufficient strength to support the membrane. All substrates must be free of sharp protrusions. The surface does not need to be dry, but standing water must be removed. Substrates must have sufficient rigidity not to move during the concrete pour.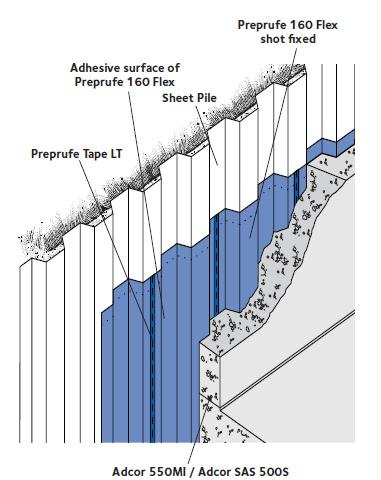 Details shown are typical illustrations only and not working drawings. For assistance with working drawings and additional technical advice please contact GCP Technical Services.
Limitations of Use
Do not use Preprufe between concrete infilled hollow block walls.
It is recommended that concrete be poured within 56 days (42 days in hot climates) of application of the membrane.
NBS Specification
Refer to clause J40 297.
Health and Safety
There is no legal requirement for a Safety Data Sheet for Preprufe. For health and safety questions on this product please contact GCP Applied Technologies.
For Bituthene LM read the product label and Safety Data Sheet (SDS) before use. Users must comply with all risk and safety phrases. SDS's can be obtained from GCP Applied Technologies or from our web site at gcpat.com.

gcpat.uk | United Kingdom customer service: +44 (0) 1480 478421
This document is only current as of the last updated date stated below and is valid only for use in the United Kingdom. It is important that you always refer to the currently available information at the URL below to provide the most current product information at the time of use. Additional literature such as Contractor Manuals, Technical Bulletins, Detail Drawings and detailing recommendations and other relevant documents are also available on www.gcpat.uk. Information found on other websites must not be relied upon, as they may not be up-to-date or applicable to the conditions in your location and we do not accept any responsibility for their content. If there are any conflicts or if you need more information, please contact GCP Customer Service.
Last Updated: 2021-02-05
https://gcpat.uk/en-gb/solutions/products/preprufe-pre-applied-waterproofing-solutions/preprufe-160-flex